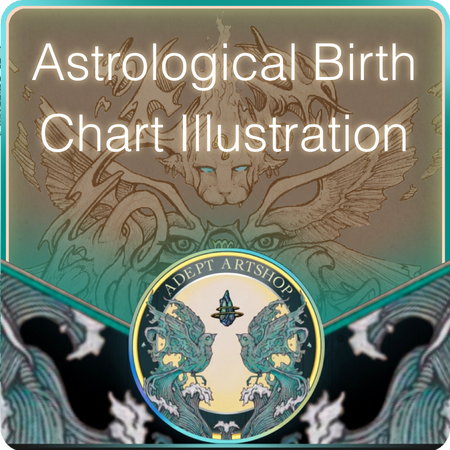 Birth Chart Illustration:
A custom illustration service in which your personal Sun, Moon, and Ascendant signs will be combined to create a visual depiction of your Astrological essence. A characterization of the qualities you carry throughout your life based on your signs.
Your Birth chart is similar to a blueprint of the life you're living, based on the positions of Solar and Planetary bodies upon the moment you were born. Your birth chart reflects qualities of your life such as love, luck, successes, trials, strengths, weaknesses, aspirations, career path, and much more. Your illustration is drawn intuitively and is based on your own personal chart, like a visual Horoscope. You will see and connect to symbolism within your drawing I as the artist was unaware of creating. It is a rare and entirely one of a kind experience for any ardent student of astrology and lover of art.
You will receive:
Original Illustration (9×12 inch inked on toned tan paper)
Digital file of your piece
Certificate of Authenticity